Comments By Dan Saccente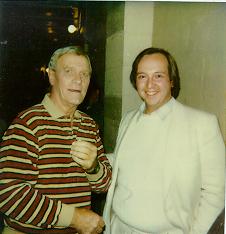 Westbury Music Fair, June 2, 1983 taken by Gabe Tucker.
Hi fellow Eddy Arnold fans:
I would like to share with you an experience I had meeting my favorite singer.
I have been a fan of Mr. Arnold since I was 7 years old. I have seen him
in concert several times and met him in autograph lines, but I had never been
able to officially meet him or spend any time talking to him.
In June of 1983, Mr. Arnold was booked to play Westbury Music Fair. My
sister had been the Assistant Production Manager there and I had friends
there, so I had free access to the backstage area. Needless to say I made
plans to attend both shows and was thrilled that he was performing there.
On the first night I was backstage sitting on a couch that was outside the
star dressing room. The phone rang and someone answered it and knocked on
the door saying it was Jerry Purcell for Mr. Arnold. He stepped out and took the
call. After he hung up, he went to go back into the dressing room. He noticed
me sitting there and then walked over to me, put out his hand and said, "I
haven't met you, I'm Eddy Arnold." I shook his hand and said (with a
chuckle, like I didn't know who he was, my favorite singer!) "I know". I
told him my name and then he went towards the dressing room, he turned and
said "Saccente" that's Italian isn't it?".
I had the privilege to spend some time with him that weekend and the next
time he appeared there and at few other concerts since then. I think this
shows how down to earth he is and how good he has always been with his fans,
and that he is a really nice man.
Dan Saccente
Bohemia, NY
---
HOME PAGE
---
Press "Back" On Your Browser To Return To Preceding Page
---