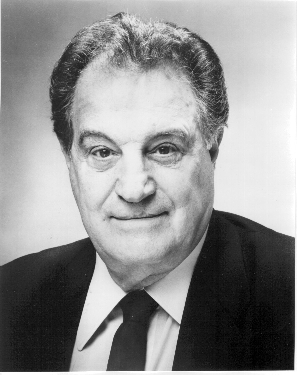 1915 - 2002
Gerard W. Purcell
JERRY PURCELL: A MASTERFUL MANAGER
By Bill Winstead
Eddy Arnold has had an extraordinarily remarkable career that has spanned more than half a century. In fact, he has had two distinct careers. During the decade from the mid 1940s to 1950s, Eddy Arnold virtually owned the country music charts. Most of his records rocketed to the top 10. In the mid 1960s Eddy Arnold embarked on a second career that dwarfed the first. The second career would have never happened if it had not been for the managerial genius of the late Jerry Purcell.
By the early part of 1964, Eddy Arnold records sales had dwindled so drastically that he contemplated retirement. Jerry Purcell became Arnold's manager and proceeded to reinvent his client, guiding the former Tennessee Plowboy to new musical heights.
Born in New York City in 1915, Purcell graduated from Fordham University. A stint working for an ad agency proved to be an unsatisfying one.
A pivotal period for Purcell was when he started taking New York University courses in television. Purcell became adept in virtually every area of television production, including behind the camera. Jerry even made an occasional foray into TV makeup.
Always attracted to music, Purcell decided to try his hand at show business management. Some of his early clients included the Clancy Brothers and Toni Arden.
Purcell's expertise has not been confined to the musical scene. Usually poetry is a hard sell. But Purcell was able to negotiate a deal that led to the publishing of poems by Maya Angelou.
According to Jerry, one of his talents is his ability to pick hit songs. Over the years, he says he has selected more than 20 huge hits. We'll Sing In The Sunshine was a top seller for Purcell client, Gale Garnett. Jerry also chose hits like Java and Sugar Lips for another Purcell performer, trumpeter Al Hirt..
In 1964, Joe Csida, Eddy Arnold's manager, decided to discontinue artist management to concentrate on a new job as an executive for an upcoming record company. Csida offered Purcell a package deal for his clients and he would "throw in Eddy Arnold." "I told Csida the only one I wanted was Eddy Arnold."
"Eddy was cold at the time. He was almost ignored at RCA. He was not getting good songs."
Purcell started a tug-of-war with Eddy Arnold's producer, famed guitarist Chet Atkins. Jerry wanted to take an active role in the choice of songs for Arnold.
In addition, Purcell sought to invigorate Eddy Arnold recordings with a more polished, precise background.
"About 90% of the musicians in Nashville can't read music, " said Purcell. "They just improvised on Eddy's records."
At Purcell's insistence, Eddy Arnold's first album under his new manager was recorded in New York. Pop Hits From The Country Side showcased Arnold's mellow voice with a lush background of violins, violas, and cellos.
Purcell also was determined to transform Eddy Arnold's image. Rodeos were out, urban concerts were in. Purcell had Arnold's shoes custom made in London. Eddy performed in exquisitely-tailored tuxedos and California-made shirts.
But Purcell had to devise a way to get the public to see the "new Eddy Arnold." Jerry signed Roger (King Of The Road) Miller, a hot commodity at the time, to team with Arnold on a concert tour of major cities. Purcell lowered ticket prices and spent a considerable sum promoting the concerts. The tour was a huge artistic success. Rave reviews from critics followed each Eddy Arnold performance.
"I told Eddy that I was going to book him at Carnegie Hall," remembers Purcell. "Eddy said, 'They won't let me in the place.' " They not only let him in the place, but he was a smash hit in 1966. He had another sold-out Carnegie Hall concert a year later. Time Magazine gave Eddy Arnold a glowing review, calling him the "Country Como."
With the innovative arrangements of Bill Walker providing a symphonic sounding background, Eddy Arnold records once again started selling in the millions.
While Make The World Go Away, Turn The World Around, Then You Can Tell Me Goodbye and other songs climbed the charts, Eddy Arnold appeared in the best venues such as the Coconut Grove in Hollywood and the Waldorf Astoria in New York. He also packed them in Las Vegas, Reno and Lake Tahoe. Nearly every prestigious concert hall has been graced with one or more appearanaces by Eddy Arnold. The singer also performed with symphony orchestras in virtually every major city.
Purcell also capitalized on Eddy Arnold's new popularity by booking him on a wide variety of televesion shows with the likes of Danny Kaye, Jackie Gleason, Dean Martin and Red Skelton. Eddy Arnold also became a frequent host of the Kraft Music Hall.
Eddy Arnold's evaluation of Jerry Purcell is evident in an incident that took place afer Purcell masterminded the resurrection of Arnold's career.
When he found that the Arnold-Purcell relationship did not include a written contract, Joe Csida sought to resume management of his former client.
Purcell recollects Eddy's response: "There is no way I'm leaving Jerry. Jerry has showed me what good management is. He is the kind of manager I've always wanted."
In the past there have been country music traditionalists who have been highly critical of Eddy Arnold's musical sojurn to the middle of the road. Some even charged that Arnold had abandoned his heritage and evolved into a pop singer. These critics fail to recognize that Arnold did not stop singing country music. He just sang it with more class. At one time, especially in large urban areas, country music was once the subject of derision. Nasal vocals and twangy guitars limited widespread acceptance of the genre. Jerry Purcell's goal was to broaden Eddy Arnold's appeal, and he succeeded in astongishing fashion. The Purcell-Arnold approach brought class and new respect to country music. Replacing sparse musical backgrounds with orchestral arrangements help to present Eddy Arnold's beautiful baritone to a much larger audience.
Jerry Purcell was still quite active in show business until a few months before his death. He was the National President of the National Conference of Personal Mangers and held this position for the past twenty years. Apparently, the word "retirement" was not part of his vocabulary and he was always looking for the next hit song.
Jerry Purcell's profound respect for Eddy Arnold is evident in the following comment: "Of all the people that I have managed, Eddy is the only performer I always went with for concerts."
According to Purcell, Eddy Arnold will still be doing an occasional television show and his latest CD, Seven Decades Of Hits, was released by Curb Records on October 03, 2000.
---
HOME PAGE
---
Press "Back" On Your Browser To Return To Preceding Page
---