An Afternoon to Remember!
By Nancy Richardson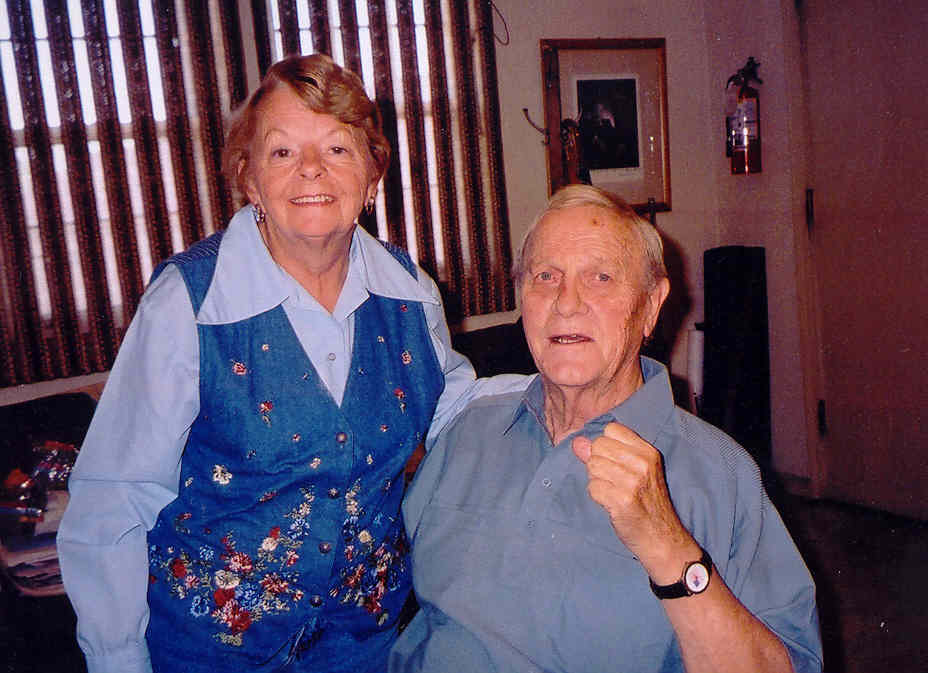 Photo of Nancy and Eddy taken in Eddy's office in Brentwood on September 30, 2003
On the last day of September, Dan and I were invited to visit Eddy and his secretary, Roberta, at Eddy's office. I have been a fan for almost 50 years and had met Eddy briefly at the Brocton Fair in Massachusetts while he signed autographs after the show. I had been so nervous that I could barely remember my name when he signed my book. Needless to say, I was very nervous about the idea of meeting him in his office. I told Dan if I had a memory lapse he could tell Eddy my name. Dan likes all classic country including Eddy's music but he wasn't a fan of anyone in particular. He is now an Eddy Arnold fan. He raises chickens and wondered if he should take Eddy and Roberta some fresh farm eggs, but decided it may not be a proper gift for a celebrity.
We arrived at Eddy's office a little before 1:30 PM. It was quite easy to find thanks to Don Stewart's landmarks. We parked in front of the building instead of Eddy's parking spaces behind the building. Roberta greeted us as Eddy was still at lunch. Roberta is a petite lady with sparkling eyes and a quick smile. She is easy to talk to and made us feel instantly welcome. We talked briefly about Bill Comer's wonderful website on Eddy and how pleased she was that Bill is returning to good health.
We discussed our endeavor to have Eddy receive the Kennedy Center Honors which is awarded annually by The John F. Kennedy Center for the Performing Arts. Bill Shoop, Don Stewart, Frank Cunningham, Bill Comer and I worked tirelessly to try to achieve this goal.. I told her many fans from around the world including politicians, and celebrities endorsed him. We both agreed that Eddy was morally too good for the bunch that the Kennedy Center does honor.
I told Roberta that a friend of mine, who is a secretary, commented on her script typewriter after seeing a note she sent to me. Roberta said it was in the office when she first became Eddy's secretary 36 years ago. She loved it so much she never wanted a new one. It is now an antique.
Eddy came in shortly after. He commands attention, he is tall, broad shouldered, straight and handsome. He wore a blue knit shirt that brought out the color of his eyes. He still speaks like he once sang as his voice comes as easily and musically as a song. I was so nervous I was afraid I would ramble. Later Dan told me I did good and only rambled a little. I jumped to my feet and held out my hand, which he shook firmly, then turned to Dan and shook his hand. With a slightly wavering voice I said, "Mr. Eddy Arnold, I have been your fan for almost 50 years." Eddy knows people well and I am sure could make anyone feel at ease. He grinned and quipped, "That's impossible I'm only 27 years old." Later in the visit he told us he was 85 years old. I told him very sincerely that he didn't look it. He replied that his health was still good, not great but good.
Eddy's office is at the top of the second floor. There is a table and 4 chairs by the window overlooking the rear parking lot. His desk is in the back against the wall with a sofa at a vertical angle. Roberta sat at the desk, when we first came in, and I sat on the sofa to be near her. She asked Eddy if he wanted his chair and he said no and pulled up a chair in front of me so he could hear me. He said he is slightly hard of hearing. We started talking about his career. I told him I had all of his 33 1/3 records up through the early to mid 80's when they began to switch to tapes and I could no longer get records. He said his first records were 78's then 45's. I told him that I believed Bill Comer had all of his records. He laughed and said Bill probably had some he didn't even have and went on to say that Bill was a dear friend.
Later in the conversation, I told him how much I liked his last song, "To Life." He said the Country Music Hall of Fame has made a video out of that song depicting his life. He told me Dan and I must go see the exhibit which we plan to do in the future. He talked of how pleased he was that he decided to give his memorabilia to the Hall of Fame and wished other stars would consider doing the same. Often when the star passes on their collections became scattered and lost and no one gets to enjoy them.
Eddy's mind and memory is quick. He asked where we were from. When we said Greensburg, KY, he thought for just a moment and said, "A very dear friend of mine, Gabe Tucker, was from Greensburg." I told him that Gabe's obituary was in last January's newspaper. Eddy said Gabe died in Houston, Texas and he still keeps in touch with his widow. He said he and Gabe were friends, and worked and traveled together for many years. Thinking back he related, "Life on the road is lonely and Gabe and I had a lot in common. We had many long talks and were good company to each other."
He asked what Dan's occupation was. Dan told him he was a farmer by trade. We told Eddy we raised sheep and Dan had draft horses.
Eddy replied, "I can still ride a horse." I said, "I could too if I had a riding horse." Dan grinned, "I offered to get her a mule to ride." I said, "Wouldn't I look cute, a little old lady riding a mule." Eddy and Roberta both laughed at the idea. Eddy told Dan he should buy me a Tennessee Walking horse as they are so smooth to ride. Eddy related that he was raised on a farm and both rode and drove mules though most people thought he was joking when he told them.
While we were on the subject of animals, Eddy told a funny story of a time when he was doing a video shoot in the country on a farm. It seemed the farmer had a bottle fed pet calf that thought it was a dog. It ran with the farmer's dogs and while they were filming the dogs, the calf came running into the scene getting in the way of the cameras. Eddy said, "It was a good thing we were almost finished because the camera men could no longer hold it together." He laughed heartily at the idea and the rest of us couldn't help but laugh with him. Eddy has a wonderful, infectious, booming laugh. He claps his hands or slaps his knees to accentuate it. I remember watching him on the Johnny Carson Show many years ago. When someone told him a joke he would laugh so hard Johnny would say something dumb like, "It's too bad that Eddy doesn't have a sense of humor."
Eddy talked a little of his home of 50 years in Brentwood saying how much the area had built up. He and Sally no longer have a dog but have a wild animal feeder that dispenses a measured amount of corn to the critters coming to eat. He said they have a lot of deer but try not to make friends with them since it makes them vulnerable to hunters. He asked Dan if he hunted deer and Dan said he didn't have the heart to kill them, Eddy replied that he didn't either. He had only killed 2 in his lifetime and one was a western antelope when he was visiting a friend in one of the western states.
He walked to some posters setting against the wall and brought out a large poster of his cabin cruiser. It is a beautiful boat (ship) 54 feet long and has 3 bedrooms. Roberta, who was now sitting near me on the sofa, said, "Would you believe it even has a washer and dryer, it's like a condo." He usually takes it to Kentucky Lake where there is plenty of space for a big boat. He explained this year has been so wet that there has been so much debris on the lake that he was afraid it would mess up the propellers, so he has had to keep it on the smaller lakes close to home.
Recently, Eddy and his grandson went back to his hometown, Henderson, TN, on a nostalgia trip. He said it had grown but was essentially the same. He went to the courthouse, visited some of the employees and the mayor. He told the mayor he would take him to lunch to which the mayor replied, "No you won't, I'll take you."
I asked him if I could have his picture taken with me. He smiled at me and said, "How tall are you?" I replied, "5 feet." He said "come here and stand by my chair," and commenced to tell me there was a tiny waitress where he often has lunch who was 2" shorter than me. He teases her about adopting her. Roberta took a couple of pictures of us then I took one of Eddy alone and one of him and Roberta.
We talked for over an hour and a half on a wide variety of subjects. It was after 3:00 PM when Dan suggested we should leave so we wouldn't get caught in the Nashville rush hour traffic. Because we had parked out front, Roberta offered to take us out the front way by the other offices which were downstairs. Eddy walked with us to the head of the stairs. On the way they showed us their little kitchenette and Eddy opened the door to the storage room. It was a bit cluttered. Eddy grinned and said, "You should have seen it before the Hall of Fame took a lot of stuff." Roberta said, "We need to give them some more."
They both asked us to visit them again sometime. Roberta walked us out the door to our car and waved as we left.
Our visit with Eddy and Roberta is something we will always cherish. Who knows maybe someday we will be fortunate enough to go again. Yesterday, Dan said, "I wish now that we had taken Eddy and Roberta some farm eggs. I think they would have liked them, they are real people."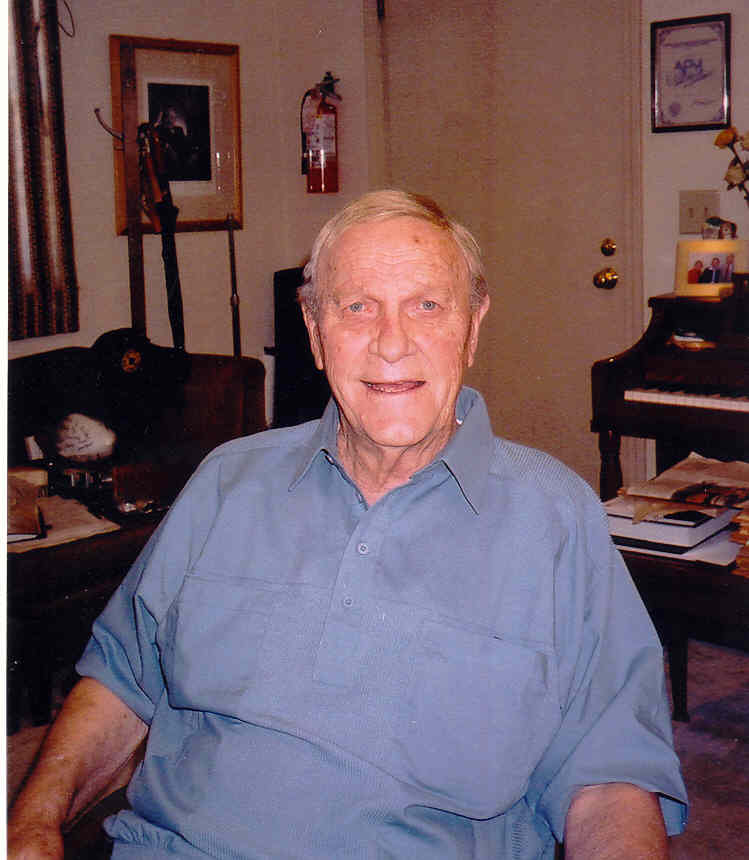 Eddy, in his office, in Brentwood on September 30, 2003
(Courtesy of Nancy Richardson)
---
Nancy: Thank you for sharing your story with the visitors to this website. Also, thank you for the support you have given this site over the years to help promote Eddy and keep his legend alive. Thank you, Don Stewart, for your input and for encouraging Nancy to share her experience with us. Bill Comer
---
Press the "Back" button on your browser to return to previous page
---