Comments By Steve McKenna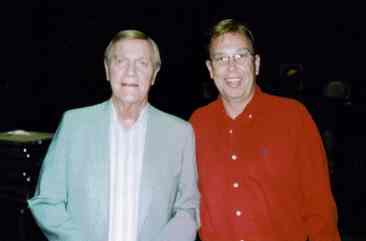 Steve McKenna with Eddy Arnold at the Orleans Hotel, Las Vegas, Nevada on May 15, 1999
Hello Eddy Arnold Fans:
My name is Steve McKenna and I reside in Santa Barbara, California.
Like Eddy Arnold, I'm a sentimental person. People often ask me, being relatively young, how I became an Eddy Arnold fan.
Growing up in a era where celebrities, sports figures, and franchises act with disdain towards their fans, it's nice knowing someone who treats his fans with kindness and respect. That someone is Eddy Arnold.
On Tuesday, May 11, 1999, Eddy gave a press conference in Las Vegas and announced that he was retiring from public tours after his May 16, 1999 engagement in Las Vegas.
He appeared at the Orleans Hotel nightly from May 11, 1999 through Sunday, May 16, 1999.
I was fortunate to be able to attend his show on Saturday evening, May 15, 1999, (his birthday), and his last personal concert on Sunday, May l6, l999.
He is a living legend and will be missed by me and millions of fans around the world.
Steve McKenna
Steve: Thank you for sharing your comments with Eddy Arnold fans around the world.

Bill Comer, Eddy Arnold and Steve McKenna on May 15, 1999
backstage at Orleans Hotel-Casino (Eddy's Birthday)

---
HOME PAGE
---
Press "Back" On Your Browser To Return To Preceding Page
---