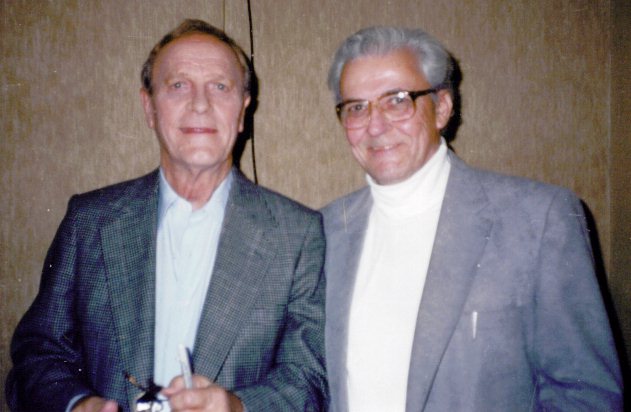 Eddy Arnold and Don Mackin, May 19, 1991
---

Comments by Don Mackin
Bill:
At long last, I venture into cyber space.

What can be said about Eddy Arnold that has not already been printed, discussed, revered, argued, worshiped and plain down right idolized??????
I am glad that Eddy has such a devoted follower such as yourself. I am fortunate enough to know that everything you undertake on his behalf is a Labor Of Love.
What I would try to express as to my views and comments would be a travesty to the deep devotion and concern you have always shown to this man.
He is a Living Legend. He has done more for the Country & Western field of music than any performer I know of. His own personal history of being a true musician, performer, and as always a Gentleman. His caressing voice to the lyrics of all his recorded selections is unprecedented. His strength to continue to the Final Performance is to be admired. Can't keep an Old War Horse down.
Eddy has done it all, and any honor he has been presented with is well deserved. Kennedy Center Here He Comes. Needless to say long overdue as to view some of the mediocre persons (nameless) who have been not worthy of preceding Him.
My Friend, keep up the excellent work as I know you will because all you do comes from THE HEART.
Your Friend In Good Listening
Don
---
HOME PAGE
---
Press "Back" On Your Browser To Return To Preceding Page
---