TRIBUTE TO A LIVING LEGEND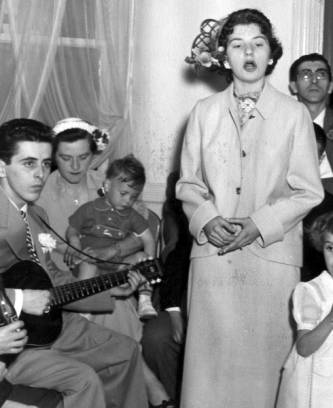 This picture was taken at our wedding reception on the 29th of May 1954
As you can see, Pierrette, my new bride, is singing a song of Eddy's that we all know: " I'll hold you in my heart…"
I am accompanying her on my Gibson guitar.
I still own this guitar that I bought years ago, when I turned 17. It is 52 years old now and the sound that comes out of it is just as great as when I first got it.
Eddy Arnold has always occupied a very important segment of our lives and will always do. We thank him for having allowed us to enter his world.
---
Eddy Arnold, in my point of view, is a great American living legend that has emerged from the rest of the population with a mission to accomplish. He may not have realized the immense extent of that mission at the time of when he first broke thru into the music world. However, there must have been such a powerful desire lodged deep inside him, and that desire perhaps unknown to him at the time, was to express thru his repertoire of songs, the feelings, the hopes, the sadness of a lost love, as well as a timely reminder of the American family ties and values.
Every one of his songs had a very personal specific meaning to some of us, if not to all of us. Notwithstanding the fact that those songs were very melodious, they were rendered by a man who was blessed with an exceptional voice, one that was pleasant to listen to and one that could convey with so much feeling, messages of love and hope.
During his long career, Eddy has in some ways thru the lyrics of his songs, filled the voids in our lives, raised hope in some of us and most importantly, entertained us for a great many years.
Inevitably, the years run by for all of us. However, as we grow older, we can still enjoy the musical enchantment emanating from the voice of the Tennessee Plowboy, as he nicknamed himself.
Not many were given this exclusive talent that Eddy possesses. Eddy Arnold recognized it and made sure the rest of the world would profit by it and did it in such a generous fashion.
We consider ourselves very fortunate to have crossed his path thru the magic of country music.
We are indeed thankful for the many hours of sheer delight, spent listening to his ballads and songs.
God Bless, Dr. Edward Arnold
Pierrette and Léo Beaulieu, Léry, Québec, Canada

---