Comments By Bill Lawrence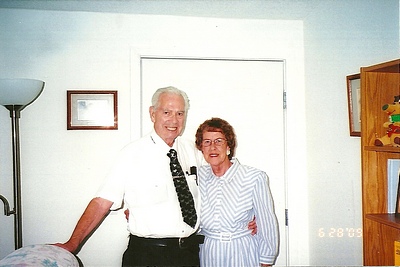 Bill and Jan Lawrence

Eddy Arnold, The Tennessee Plowboy And His Guitar, With Little Roy Wiggins And His Steel Guitar
Rarely, has an artist lasted as many years bringing his music to radio, records, movies, television and personal appearances as Eddy Arnold. From the early 40's to 1999 when Eddy decided to call it quits on personal appearances he has become a legend. The first ten years was the magic steel guitar of the late and great "Little Roy" Wiggins. All one had to listen to back in the 40's and early 50's was the magic of Little Roy's steel guitar to know that Eddy had another hit record. One could almost say that like the skin on a banana was the partnership of Little Roy and Eddy. What a team they made.
Eddy began recording for RCA Victor in 1944 and, if memory serves me right, his first release was "Mommy Please Stay Home With Me." I first met Eddy late in 1945. I found him to be every bit a real gentleman, taking the time to talk with his fans and signing autographs. I had the honor also of meeting his wife, Sally, and children, Dickie and JoAnn.
Thanks to Eddy and Roy Wiggins they made the old Hillbilly music change to easy to listen to country music.
I remember Eddy from his radio shows for Purina shows anckerboard Jamboree.
Eddy changed music and brought with the change a new audience that couldn't get enough of his voice as well as Roy Wiggins' steel. It is sad to think that what once was decent country music has now changed in the 80's and 90's to nothing but Rock Country which to me is not worth calling country music. It seems that all you need nowadays is a cowboy hat and boots which makes you a country singer. BULL, give me a singer any day such as Eddy Arnold.
The radio stations today have forgot who gave them their start, for today they play this new country, again I say BULL. Little Roy died just recently and the newspapers did not even mention the greatest steel guitar player in the world. One can't help but wonder if they will treat Eddy Arnold the same way.
Eddy, you will not be forgotten, and your music will be played long after God calls you to sing for him. I only hope that you will ask Little Roy to play his steel for you once again.
Your devoted fan,
Bill Lawrence
Bend, Oregon
USA
---
Press "Back" On Your Browser To Return To Preceding Page
---