Comments By Vanda King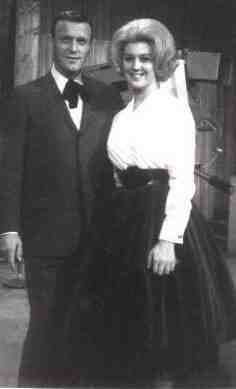 Eddy Arnold and Vanda King in 1959

Hi Bill:
Great site you have on Eddy Arnold!
I've met a lot of wonderful singers in my 45 years in show business. However, I also had the great pleasure to sing a duet with Eddy, on the CBC Television Network - up here in Toronto, Canada away back in 1959.
I thought you'd enjoy the picture of us I'm enclosing....He's as handsome today as he was back then.
When I met Eddy, I was starring in a weekly TV series here in Canada, called
'Holiday Ranch', on the CBC television network. Eddy was a Guest on our
show, but I honestly can't remember what the song was that we sang together.
However, I do remember that he was a real 'Country Gentleman', very
handsome, a very professional musician and a great pleasure to work with!
---
Thank you, Vanda, for allowing me to post your comments and to display the beautiful photograph of you and Eddy Arnold on this web site for all visitors to enjoy. Bill Comer
You may visit Vanda's web site at the following address:
http://www.vandaking.com
Piano Showcase Online Accessory Shop
For all your Piano Parts, Tools Tuning Supplies, Benches & Accessories
Worldwide Delivery, Secure Site
Complete Piano Service - in Toronto, Canada [416] 620-4315

---
HOME PAGE
---
Press "Back" On Your Browser To Return To Preceding Page
---