Eddy Arnold's Unofficial Home On The WWW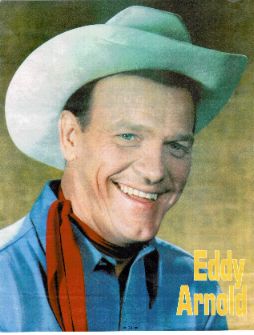 Ranked as the Top Country Recording Artist of All Time and still holding the record for Most Country Records on the Charts, Eddy Arnold has broken a lot of records in the 55 years he has been in the music business.
This country crooner, who lives modestly but is recognized as one of the richest country singers today, continues to perform simply because he loves it. Arnold has the rare talent to combine the folksy with the sophisticated, to blend the rural and urban sounds, to lean toward pop yet retain the down-to-earth quality of country. It's hard to imagine the world of music without Arnold's influence.
He has laid claim to almost every "first" that exists in the music world. His "Bouquet of Roses" was on the charts longer than any record in country music's history. He was the first country star with a network TV show, the first country star to perform at Carnegie Hall, the first to host his own television show, and the list continues. Every one of his first 71 releases charted between 1945 and 1956 became a Top Ten hit.
He is the only artist to receive all three of these awards: "Entertainer of the Year" from the Country Music Association, Pioneer Award from the Academy of Country Music and the President's Award from The Songwriter's Guild. He is also a member of the Country Music Hall of Fame.
Known as the Ambassador of Country Music, Arnold has sold over 85 million records in his career. He has appeared on every major network variety show, and has been the host of more than 20 television specials.
He is proud of his reputation as a love song singer, and says, "I like being characterized as the last of the love song singers because the love song has been a major part of my musical life. Just when I think that all the ideas have been used, some fine composer will bring me a song with a fresh, new way to say those three little words."
Born in Henderson, Tenn., Arnold grew up listening to blues and mountain music. His mother taught him to play the guitar and when he wasn't working on the farm with his brothers, he practiced guitar and harmonica and listened to music. Eventually he began performing at local gatherings.
He made his first radio appearance in 1936. He played small clubs, hooked up with a band, then went solo again. In 1945, he connected with a manager named Colonel Tom Parker who later became Elvis Presley's manager. During this time he garnered the nick name "The Tennessee Plowboy" which appeared on all his records until 1955.
From his original hillbilly appearance Arnold evolved to a new, lush style featuring orchestrated strings and chorus backup in the early 1960's. Again he rose to the top of the charts with songs such as "What's He Doing In My World?" and "Make The World Go Away." In the 1970's and 1980's he had top hits again, such as "That's What I Get For Loving You." In 1993 he released a two disc set titled "Last of the Love Song Singers."
Other memorable hits include "That's How Much I love You," "Anytime," "I Want To Go With You,"
"The Last Word in Lonesome Is Me," "Lonely Again," "Misty Blue," and "Just a Little Lovin'."
One of his most popular songs, "Cattle Call," is out on a release as a duet with teen star LeeAnn Rimes. Rimes appears at the Høstfest the same day as Arnold.
Besides being a fine musician, Arnold is respected as an astute businessman. A self-proclaimed tight wad, he has numerous successful business interests, and is on the board of directors for several leading corporations and banks.
Arnold lives in Tennessee with his wife of more than 50 years, Sally. His fellow citizens respect him so much that both parties have asked him to run for governor. But Eddy's response to that is, "If I won, I wouldn't have time to sing anymore and then I just wouldn't be me."

Place your bookmark on this page and check for updates, We will never stop growing.
Please send your comments and suggestions or criticisms to Bill Comer at bill830@aol.com in Orlando, FL.
The preceeding biographical information was offered for our use by Mr. Keith R. Darnay off of the Hostfest site. This and other artists information can be viewed by visiting Hostfest. Thank you Keith.
---
Press "Back" On Your Browser To Return To Preceding Page
---