Eddy and Don In Baltimore, Maryland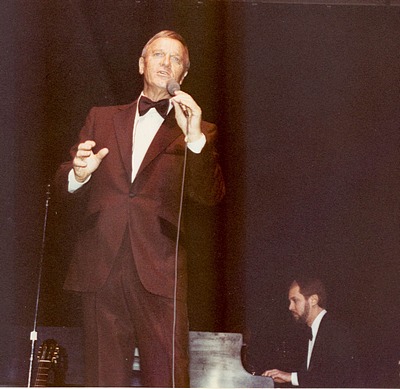 DON STURROCK: MASTERFUL MUSICIAN
By Bill Winstead
In 1955 Eddy Arnold's rendition of Cattle Call with Hugo Winterhalter's Orchestra climbed to the summit of the charts. An eight-year old Beaumont, Texas boy heard Eddy Arnold's signature song on the radio, then went to the piano and played it by ear. Ironically, twenty-three years later, that boy, Don Sturrock, became Eddy Arnold's arranger, conductor and pianist.
"Cattle Call was the first song I ever played from listening to the radio," recalled Sturrock. "When I first met Eddy, I told him that, and I think he may have had a little trouble believing me, but it's the truth."
Don Sturrock has a mountain of memories from his seventeen-year stint (1978-1994) with Eddy Arnold, particularly performances with symphony orchestras. Don arranged and conducted for symphonies in cities like Baltimore, Memphis, Denver, and New Orleans.
"The symphony musicians sometimes looked down their noses at pops concerts," opined Don. "But it usually didn't take long for Eddy to win them over."
At first, Don admitted, that he was a little surprised at Eddy Arnold's widespread popularity, assuming that the singer's fan base was primarily in the South. According to Don, Arnold attracted huge crowds everywhere.
"Eddy was popular all over. He had particularly enthusiastic fans in the Northeast. Audiences often jumped to their feet to give him a standing ovation when he came on stage."
Don Sturrock's musical journey has not been limited to his collaboration with Eddy Arnold. His career has taken him from Beaumont to Boston, from Venice, Florida to Venice, Italy. Sturrock has directed and/or written arrangements for musicals in New York City at Lincoln Center, City Center, and Town Center. He has also served as musical director for dinner theatres, summer stock, Las Vegas productions, and even foreign cruise ships.
Born in March of 1947, Don exhibited an interest in music almost from the cradle. As a young boy, Don, who has one brother and three sisters, was always banging on the piano at church. Don's father was employed in the sporting goods business, but he also was a church choir director. His mother, although having no musical talent herself, was a source of encouragement for her son.
Surprisingly, Don's first piano teacher could not read music. She would play something, then ask Don to play it. Don revealed that this approach was actually good training for him "because I learned to listen and develop my ear for music." Don's parents later hired another teacher who taught him how to read music.
Don, whose grandfather was a Baptist minister, performed in musical productions at school. His first paying job was playing for his church.
Don's formal music education took him to sundry places. Don graduated from Lamar University in Beaumont where he was the first student to earn a music degree that was not in education. In addition to his music studies, Don minored in English and government. His well-rounded curriculum also included courses in art and architecture.
Graduate studies in music took Don to the Manhattan School of Music in New York City.
There, the emphasis was on learning commercial arranging. While in the Big Apple, Sturrock had mixed experiences. His car was stolen twice. But he roomed with a future Hollywood star, Kevin Kline. Don worked with the acting company at the prestigious Julliard School of Music. During this period Don directed Kline and Patti Lapone in The Apple Tree.
Don's studies in New York City ignited his interest in theatre production. The Manhattan School of Music encouraged Sturrock to gain more practical experience with "bus and truck" tours. Don went on a national tour of Stop the World I Want to Get Off. Eventually, he performed in the same musical in Puerto Rico.
Don expanded his musical education with William Maloof at the Berkeley School of Music in Boston where he studied conducting. He furthered developed his music composition skills with Lalo Schrifin in Los Angeles. In addition, Sturrock studied arranging with Hayward Morris and John Carisi in New York City.
During his career Don has amassed an impressive array of theatre credits. He has written orchestrations and directed classic musicals such as Fiddler On The Roof, Hello Dolly, My Fair Lady, The King and I, South Pacific, Carousel, I Do I Do, and Promises, Promises. He also served as the musical director for a lesser-known production, an original collaboration by Maya Angelou and Lalo Schrifin.
Over the years Sturrock has contributed his talents extensively to the dinner and summer stock genres. He has directed musical presentations in Pennsylvania, Massachusetts, Rhode Island, New York and Las Vegas.
Don Sturrrock's musical expertise has carried him beyond the borders of the United States. He has orchestrated shows for cruise ships in the Caribbean, the Mediterranean, and Scandinavia.
One of Don's most pleasurable experiences took him to Venice, Italy for a two- month stay. There, he penned the orchestrations for an opera company's production of George Gershwin's Lady Be Good.
A few years ago, Don set up his musical shop in Sarasota, Florida where he is constantly busy in theatre work. He has also been involved in orchestrating for shows in Miami and Venice, Florida.
Don, who has had orchestral and choral music published by five different companies, first began working with Eddy Arnold as a substitute conductor for Charles Grean, a longtime associate of the singer. (An interview with Grean by Eddy Arnold biographer, Mike Streissguth, can be found elsewhere in this website).
In the 1970s, Sturrock used to perform with Cabaret singer, Monique Van Vooren, then the wife of Jerry Purcell, Eddy Arnold's manager. When Grean decided to go into semi-retirement, Sturrock took over as Arnold's musical director.
While associated with Eddy Arnold, Don did much more than just arrange, conduct, and play piano. He was in charge of hiring traveling musicians. He directed backup singers and dancers. In fact, he put together an eight person-performing group called Southern Comfort. This young contingent opened for and backed Eddy Arnold. Southern Comfort also performed in industrial shows and on Holland America Cruise Lines.
Performing with Eddy Arnold led to important fringe benefits. On television and in concerts, Don was privileged to work with other stars. On a TNN special honoring Eddy Arnold, Don collaborated with legendary stars like the late Chet Atkins, Anne Murray, and the late Dinah Shore. For Eddy Arnold concerts, Don got to conduct and/or arrange for artists such as Boots Randolph, The Lennon Sisters, The Chordettes, the late George Gobel, and Rip Taylor.
Eddy Arnold recordings like This Ain't Tennessee and She Ain't You and Honey, I Don't Love You
benefited from Sturrock arrangements. Don revealed that he often had to change arrangements that had been used in the studio.
"I had to write new endings because you can't use fadeouts on stage. I also enjoyed writing medleys."
Sturrock revealed that he learned much about performing from Eddy Arnold:

"When a singer does a concert, he or she should do more than just sing the hits. I learned a lot from Eddy about how to put an act together. Eddy is not just a singer; he's a performer."
One concert especially memorable for Don was at the old Houston Astrodome where Eddy Arnold drew a crowd in excess of 41,000.
"That was a such big place for a concert," remembers Don. "We (the orchestra) came out on the back of a flatbed truck. There were big screens everywhere, so the people could see close-ups of Eddy."
Don related one rather poignant story: Jack Lawrence, who conducted and played piano for Eddy Arnold concerts in the early 1970s, had died of cancer at the age of 40. When Don met Jack's parents, they noticed that Don was about the same size as their son.
"They wanted to know if I would like to have Jack's tuxedo. I accepted it and I wore that tux many times when I performed with Eddy. I felt honored to wear it."
Eddy Arnold concerts were planned with meticulous care. Don said that one of the requirements in a concert contract was a provision for a Grand Piano. Once, for a show at the Alabama Theatre in Myrtle Beach, South Carolina, a Grand Piano had to be trucked in from Columbia, South Carolina.
In the opinion of Don Sturrock, Eddy Arnold is truly in a class of one.
"Eddy's voice is so distinctive. He has a style and range all his own and in the years I was with him, I never heard him raise his voice or lose his temper. It was an honor to be a part of his career.
Eddy and Don at Harrahs in Atlantic City, New Jersey
---
Press the "BACK" button on your browser to return to previous page.
---
.
---