COMMENTS BY CHRISTY MILLER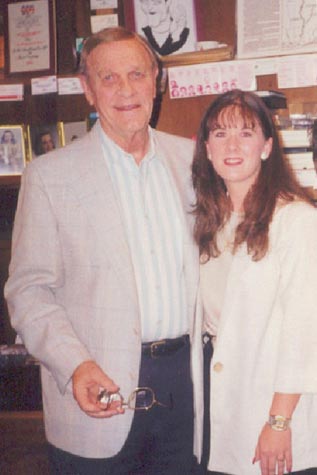 Eddy Arnold and Christy Miller - Photo Was Taken In
Eddy's Office In Brentwood, Tennessee

Christy Miller - March 22, 2001
My Email: clm2a@mtsu.edu
City and State: Harned, KY
Country: USA
Comments:
Those of you who have Eddy's new album "Seven Decades of Hits" may recognize my name. I am featured on the album with the song "The End." I just want to say that Eddy has been one of the best friends and inspirations I have had in my life. It has been an honor to work with him and to get the opportunity to be a part of such a great project. Eddy is still one of the greatest recording artists in the business in my eyes and he always will be. He sings from his heart and that is what counts. To have such a long and successful career is rare. Sixty years in the music business is a very long time and I think he should get more recognition than he has for such an achievement. We love you Eddy!
Track Titles

01. To Life
02. Anytime
03. I Walk Alone
04. I'll Hold You In My Heart (Till I Can Hold You In My Arms)
05. In The Misty Moonlight
06. Then You Can Tell Me Goodbye
07. Lonely Again
08. Make The World Go Away
09. What's He Doing In My World
10. The Last Word In Lonesome Is Me
11. Bouquet Of Roses
12. Have I Told You Lately That I Love You (with Carrie-Margaret Frey)
13. Let It Be Me (with Lisa Carrie)
14. Cattle Call (with LeAnn Rimes)
15. The End (featuring Christy Miller)
16. Happy Birthday To You

(The above CD may be purchased at online music stores such as Amazon.com, CDnow.com or at your local record store)
---
I FIRST MET MR. ARNOLD IN MAY OF 1998, WHEN I WAS IN COLLEGE AT MURRAY
STATE. A FRIEND OF MINE HEARD A DEMO TAPE I HAD MADE AND TOLD ME I
NEEDED TO SEND IT TO EDDY. (HE WAS A CLOSE FAMILY FRIEND OF THEIRS.)
SO I SENT THE TAPE AND ABOUT 3 WEEKS LATER, MR. ARNOLD CALLED ME
HIMSELF AND SAID HE LIKED WHAT HE HEARD AND WOULD LIKE TO MEET ME
AND THAT HE HAD A MEETING SET UP WITH JOE GALANTE, THE PRESIDENT OF
RCA RECORDS. NEEDLESS TO SAY I WAS ABSOLUTELY STUNNED THAT
SOMEONE LIKE MR. ARNOLD WOULD TAKE AN INTEREST IN MY CAREER.
WE MET WITH MR. GALANTE AND I DID A DEMO FOR RCA, BUT UNFORTUNATELY
THEY PASSED ON ME, BUT EDDY STILL DID NOT GIVE UP HOPE AND FOUND
CHUCK HOWARD ( A WELL KNOWN PRODUCER IN NASHVILLE) TO REDO THE
SOUNDTRACKS AND WE CUT ANOTHER DEMO. WHEN HE DID HIS "SEVEN
DECADES OF HITS" HE ASKED IF I WOULD LIKE TO PUT THE SONG I HAD DONE
"THE END" ON HIS ALBUM. THAT WAS ANOTHER WAY HE WAS TRYING TO
PROMOTE MY CAREER.
SINCE I HAVE KNOWN EDDY, HE HAS INTRODUCED ME TO SO MANY VERY
INFLUENTIAL PEOPLE IN THE MUSIC INDUSTRY, INCLUDING HEADS OF RECORD
LABELS, A&R PEOPLE, SINGERS, PRODUCERS, SONGWRITERS, ARTISTS, AND
MANY CLOSE FRIENDS.
HE IS A VERY GENEROUS, CARING AND GIVING PERSON. HE HAS BEEN THERE TO
GIVE ME ADVICE AND CHEER ME UP WHEN I GET LOW AND JUST BE A REAL
FRIEND, AND NEVER ASKS FOR ANYTHING IN RETURN.
WE HAVE GONE OUT TO LUNCH SEVERAL TIMES WITH HIS SECRETARY AND FRIENDS
AND HE WOULD ALWAYS INTRODUCE ME TO OTHER PEOPLE, FIRST, AS HIS GRANDDAUGHTER
AND THEN AS HIS DAUGHTER. . HE GOT A KICK OUT OF THAT AND IT MADE ME
VERY PROUD.
HE LOVES TO TELL STORIES, AND WE WOULD SIT FOR HOURS IN
HIS OFFICE AND HE WOULD TELL ME HOW THINGS WERE WHEN HE STARTED OUT,
PLACES HE HAD BEEN, PEOPLE HE HAD MET, AND WE WOULD LISTEN TO SOME
OF HIS OLD SONGS HE HAD RECORDED AND I WOULD TELL HIM ABOUT SOME
SONGS I HAD BEEN WORKING ON AND HE WOULD GIVE HIS OPINION ON
DIFFERENT SONGS AND ADVICE ON WHAT TO DO NEXT.
ALMOST FROM THE FIRST TIME I MET HIM, HE ALWAYS SAID "NO MATTER WHAT ELSE YOU
DO, YOU HAVE TO FINISH SCHOOL" SO I DID. I GRADUATED FROM MIDDLE TENNESSEE
STATE UNIVERSITY IN DECEMBER 2001, WITH A MAJOR IN THE RECORDING
INDUSTRY (EMPHASIS ON STUDIO ENGINEERING) AND A MINOR IN BUSINESS, AND
MR. ARNOLD WAS THERE.

EVEN IF I NEVER DO GET A RECORD DEAL, IT WILL BE ALRIGHT, BECAUSE JUST
HAVING THE HONOR OF KNOWING MR. ARNOLD PERSONALLY, AND BEING
CONSIDERED ONE OF HIS FRIENDS AND HE BEING MY FRIEND, IS WORTH MORE TO
ME THAN ANYTHING ELSE.
EDDY DESERVES A LOT MORE RECOGNITION THAN HE GETS. HE WAS A PIONEER
IN THE COUNTRY MUSIC INDUSTRY AND IS A TRUE COUNTRY GENTLEMAN. I WILL
ALWAYS BE GRATEFUL TO HIM FOR EVERYTHING HE HAS DONE FOR ME.
THANK YOU EDDY FOR BEING MY FRIEND!
CHRISTY MILLER

---